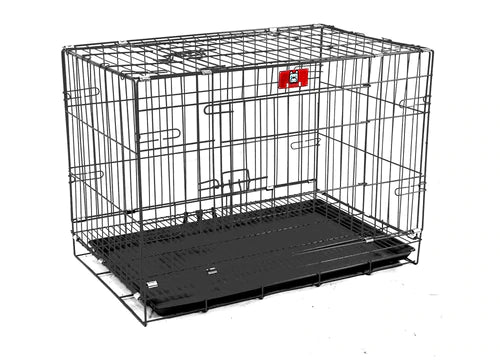 Mr. Chuck - Collapsible Pet Crate Black
---
Pet cages for Dogs, Cats and other furbuddies at home!
ColorBlack

Sizes Available : 
SMALL

Dimension - 18 3/4" X 12" X 14 1/2

Weight - 2.50KG

MEDIUM
Dimension - 24" x 17" X 2- 3/8"

Weight - 3.80KG
LARGE

Dimension - 230 1/4" X 18 1/2" X 22"
Weight - 5.90KG
EXTRA LARGE
Dimension - 36" X 22 1/4" X 26"
Weight - 8KG
Powder Coated (Non-Plastic)
Black wire
Designed to last and ineffective whenever our furbuddies are trying to bite their way our! 
galvanize iron clip (Not using plastic clip)
Crate training is useful for dogs that need a break from a busy household or a familiar area to rest throughout the course of their daily lives. Mr Chuck offers a wide variety of dog crates for every breed and size. Our crates are specially designed to help dogs to learn to calm themselves when confronted with stressful situations such as those caused by fireworks, thunderstorms or constructions.